Annual Meeting 

–

 
TAP into Your Potential in TPA


April 23–25, 2023 | Tampa, FL
2023 SACUBO Annual Meeting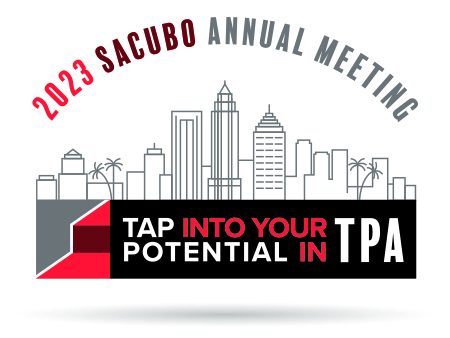 SACUBO invites you to join us in Tampa, Florida for the 2023 Annual Meeting. The official dates of the meeting are April 23 – 25, 2023. Join your peers from higher education institutions around the region for relevant and quality professional education and networking opportunities. In the evenings, enjoy the entertainment, dining, and shopping opportunities in Tampa and the surrounding area.
---
TAP into Your Potential in TPA
SUCCESS 
AWARENESS
CONNECTIONS
UNDERSTANDING
BELONGING
OPPORTUNITIES
---
Scholarships
The application for 2023 Annual Meeting scholarships is now open. Scholarships of $1,000 each are available to employees of SACUBO member colleges and universities. The deadline for applicants to submit the General Scholarship Application form is February 16. Applicants will be notified of their status no later than February 27.
---
CPE Information
When every dollar counts, it is good to know the Annual Meeting meets your professional and educational needs. Earn CPE credits as you attend sessions, confer with colleagues, and meet industry leaders from across the region. Participants who attend all educational sessions offered will be able to earn up to an estimated 15 CPE credits.
Certificates will be emailed within approximately four weeks after the meeting.
---
Share Best Practices
Finalists from the 2023 Best Practices competition will be invited to showcase their "Best Practice" at the Annual Meeting. Share your best practices and learn from your colleagues. If you would like for your proposal to be considered for the Best Practices Award Program, please provide the initial required information related to the call for proposals, and then answer "Yes" to the question, "Would you like for this to be considered for the Best Practices Award Program?"
The Call for Proposals for the Annual Meeting and Best Practices is now closed. Thank you for your submissions. 
---
Learn from the Experts
Quality speakers and subject matter experts will provide relevant and timely information and the tools to help you address challenges and issues of importance specific to higher education financial and administrative services.
---
Network with Colleagues
The Annual Meeting provides opportunities for you to network with your colleagues from the region. Take time at the Annual Meeting to connect, share, and learn. Build new relationships and strengthen existing relationships.