---
---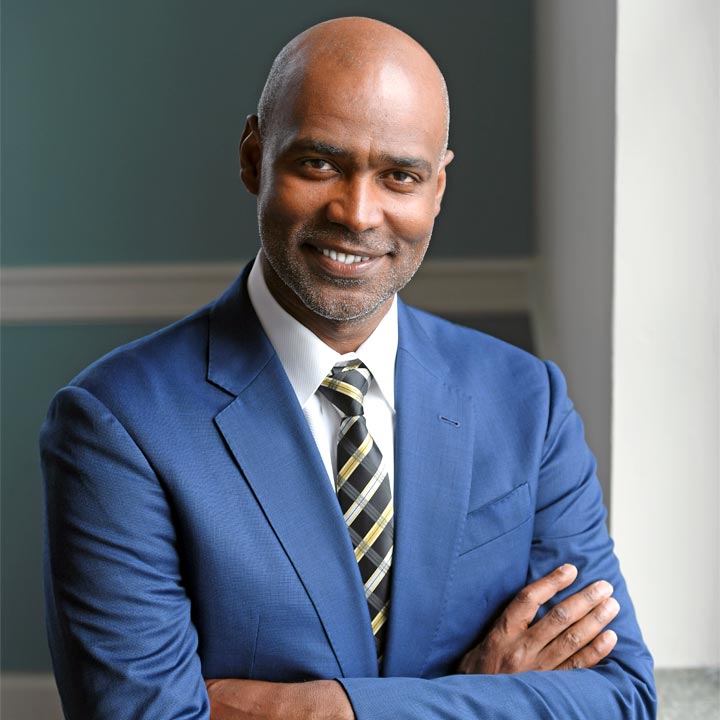 An award-winning coach, educator, and leader, Joseph has spent his career leading cultural transformation, helping people believe in themselves, and creating cohesive teams. He speaks about self-confidence, embracing the "grit" to persevere despite setbacks, and leading teams to success, drawing from the lessons he's learned from a life in sport.
Born in Guyana, South America, Joseph arrived in Toronto at the age of five, with only the clothes he was wearing. The Joseph family lived in one of the poorest and most dangerous neighborhoods in Canada, until hard work and good fortune helped them move to a rural farming community—where Ivan was fortunate to develop unstoppable work ethic and sky-high aspirations.
While serving as a professor and soccer coach at Graceland University, Joseph developed the soccer program from the ground up. In just five years, he led both the men's and women's teams to #1 national rankings and helped the men's team win their first ever national championship. As a result, he was recognized by The National Association of Intercollegiate Athletics as National Coach of the Year in 2006.
As Director of Athletics at Ryerson University, Joseph led the athletic program to national prominence. The Ryerson Rams won provincial and national championships for the first time in the institution's history — while achieving GPAs higher than the student body average. Joseph also spearheaded the landmark $100 million renovation of the historic and beloved Maple Leaf Gardens. In this new culture of belonging and pride across Ryerson's diverse urban campus, student-athletes broke records with their athletic, academic and outreach activities.
Currently the Vice President, Student Affairs at Laurier University, Joseph leads the university's effort to promote interconnectedness and belonging among a diverse student body drawn from across the country and around the globe.
Joseph is regularly called on to support national team programs. In 2018 he was selected as Head Coach of the women's national soccer team in his native Guyana. While serving as high-performance coach for the Canadian men's basketball team. They won the country's first ever FIBA Under-19 Basketball World Cup in 2017.
Joseph's TEDx Talk, The Skill of Self Confidence, has more than 20 million views and Forbes named it one of the "Ten Best TED Talks About The Meaning of Life."
Along with being an in-demand speaker, consultant and coach, Joseph contributes regularly to publications including Huffington Post and Globe and Mail. He is also the author of the bestselling book You Got This: Mastering the Skill of Self-Confidence.
Joseph has a BA in Physical Education and Health, a Masters in Higher Education Administration, and a PhD in Sports Psychology.