---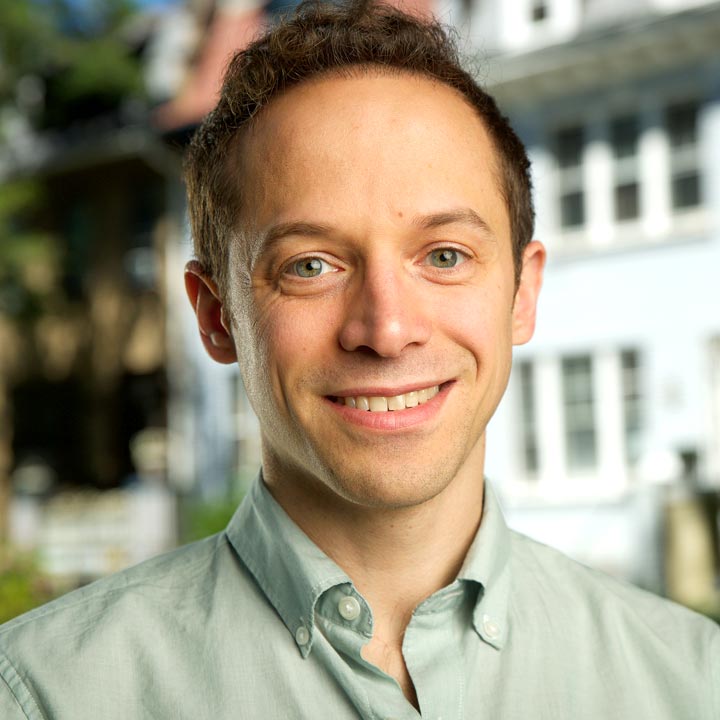 New York Times best-selling author and science writer David Epstein has made it his mission to uncover the keys to achieving high performance in any domain, and to debunk popular myths along the way. His New York Times best-seller, The Sports Gene, took readers inside the surprising science of extraordinary athletic performance. In his latest book, on the top ten New York Times bestsellers list and named one of Amazon's best business books of 2019, Range: Why Generalists Triumph in a Specialized World, Epstein examines the world's top performers, from professional athletes to artists, scientists, entrepreneurs, and Nobel laureates.
Epstein brings bold new insights to business, education, technological innovation, healthcare and other industries on the best approach to career development. His conclusion: In most fields, especially those that are complex, unpredictable, and difficult to automate, generalists, not specialists, are primed to excel. Sharing fascinating examples from the career trajectories of Duke Ellington and Roger Federer to a preeminent CEO who took her first job around the age her peers were retiring, Epstein shows that at every stage of life, from the development of children in math, music, and sports to students fresh out of college trying to find their way, to midcareer professionals in need of a change and would-be retirees looking for a new vocation after moving on from their previous one — generalists triumph as the world around them becomes increasingly specialized.
Epstein has spoken on the science of high performance and novel uses (and misuses) of data on five continents, to organizations from NASA to the Pat Tillman Foundation and at a diverse array of events from the World Knowledge Forum in Seoul to the open-source software community's Hadoop Summit. In 2014, his main stage TED Talk was one of the 20 most viewed of the year and has since been viewed over twelve million times.
Epstein's writing has appeared in numerous national and international publications, from The New York Times and The Atlantic to National Geographic. He was previously an investigative reporter at ProPublica, where his work ranged from an investigation into the DEA's complicated pursuit of Chapo Guzman's rivals, to a This American Life episode about a woman with muscular dystrophy who discovered that she shares a mutated gene with an Olympic medalist.
A former Sports Illustrated senior writer, Epstein authored or co-authored several of their most high-profile investigative pieces, including the 2009 revelation of Yankees third baseman Alex Rodriguez's steroid use. He has master's degrees in environmental science and journalism from Columbia University, and was twice NCAA All-East as an 800-meter runner.
Merging stories from the worlds of sports, business, medicine, and education, Epstein sheds light on the paths to peak performance. From how to best prepare for our specialized world to how to optimally incorporate AI into our workplaces, Epstein unpacks the science of success — leaving audiences with actionable takeaways to improve how they live, work, and prepare for the future.
---
Dr. Elizabeth Davis (President, Furman University)
---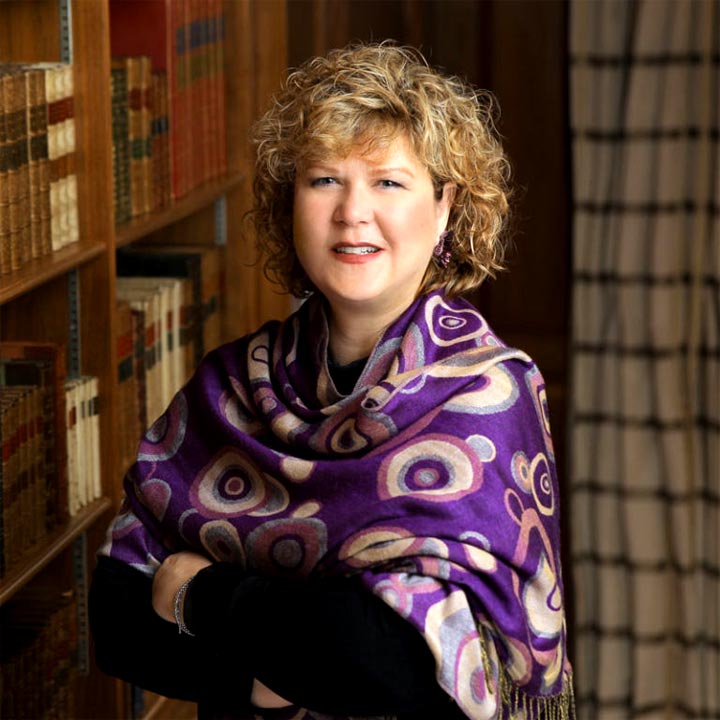 Elizabeth Davis became Furman University's 12th President on July 1, 2014. Under her leadership, the university has instituted The Furman Advantage, a distinctive vision for higher education that combines learning with immersive experiences outside the classroom, creating a personalized pathway that prepares students for lives of purpose, successful careers, and community benefit. The groundbreaking effort was launched in October 2016 with a $47 million grant from The Duke Endowment.
In September 2018, the National Society of Experiential Education recognized President Davis' efforts to launch The Furman Advantage by selecting her as the recipient of the William M. Burke Presidential Award for Excellence in Experiential Education. The annual award recognizes a sitting college president who has made "significant contributions to experiential education."
President Davis is a member of the Council of Presidents, an advisory group of college and university chief executives who provide guidance to the Association of Governing Boards of Universities and Colleges on issues of governance in higher education. She is also a member of the Council of Independent Colleges (CIC) Board of Directors.
Dr. Davis serves on the Board of Directors of the Greenville Chamber of Commerce and is an honorary member of the Board of Governors of the Commerce Club. She is a member of the Greenville Rotary Club, American Council on Education's Women's Network Executive Committee, and the South Carolina Higher Education Tuition Grants Commission. She has been recognized by Greenville Business Magazine as one of Greenville's "50 Most Influential People."
Dr. Davis has addressed numerous organizations in the Upstate since arriving at Furman, and she has also spoken throughout the U.S. on issues involving higher education, university leadership, and financial management. She has been quoted in national media, written op-eds for The Greenville News, University Business, and other publications, and done many interviews on radio and television on the subject of higher education.
Before coming to Furman, Dr. Davis spent 22 years at Baylor University in Texas, where she most recently held the position of Executive Vice President and Provost. In addition to being a member of the accounting faculty at Baylor, she also served as Vice Provost for Financial and Academic Administration, Associate Dean for Undergraduate Business Programs, and Acting Chair of the Department of Accounting and Business Law. Before beginning her higher education career, she spent three years at Arthur Andersen & Co. in New Orleans.
Dr. Davis received her Bachelor of Business Administration degree from Baylor in 1984 and earned her Ph.D. from Duke University in 1992. She and her husband, Charles, have two children, Chad and Claire.
---
Dr. Jay Gogue (President, Auburn University)
---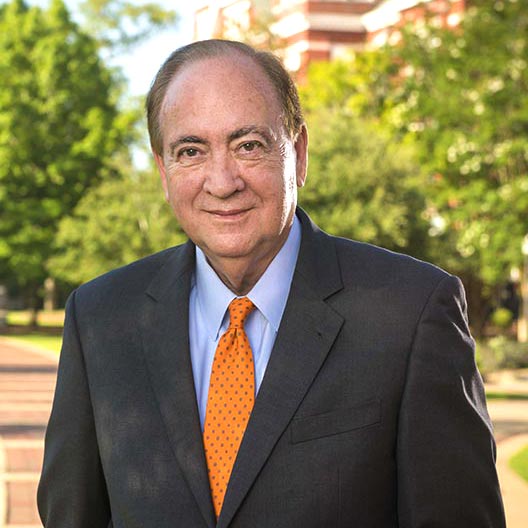 Jay Gogue returned to his alma mater on July 16, 2007, as Auburn University's 18th president and retired as president emeritus on July 1, 2017. He was appointed by the university's Board of Trustees to serve as interim president effective July 8, 2019, and appointed the university's 20th president effective Feb. 7, 2020. The Waycross, Ga., native earned bachelor's and master's degrees from Auburn and a doctorate in horticulture from Michigan State University.
During his tenure as president, the academic strength of Auburn's student population increased, a new research center was established in Huntsville, Ala., a common book program that generates a shared academic experience was instituted, and outreach partnerships with underserved schools in surrounding communities were established. His leadership during a period of sharp reductions in state support for the university budget protected Auburn's academic quality and prevented elimination of academic programs. During his retirement, Dr. Gogue remained engaged in the realm of academia, advising colleagues at numerous universities, and teaching a course on higher education leadership to Auburn students.
Dr. Gogue was selected in 2013 for the Michigan State University Distinguished Alumni Award. In 2012, he was inducted into the Alabama Academy of Honor, a group of 100 Alabamians "chosen for accomplishment or service greatly benefitting or reflecting great credit on the State."
Before returning to Auburn, Dr. Gogue served as president of New Mexico State University beginning in 2000 and, in 2003, he was named president of the University of Houston and chancellor of the University of Houston System. He started his higher education administration career in 1986 at Clemson University as vice president for research and vice president/vice provost for agriculture and natural resources. Utah State University selected him as provost in 1995.
Dr. Gogue is a member of the Phi Kappa Phi and Golden Key honor societies, Sigma Chi Fraternity, Sigma Xi scientific research society, and the National Society of Scabbard and Blade, the honorary military society for all branches of service. He met his wife, Susie, in the 8th grade, and they married during their undergraduate years at Auburn. Like Dr. Gogue, Mrs. Gogue also earned two Auburn degrees. They are the parents of three children and have one grandchild.
---
Dr. Susan Johnston (President and CEO, NACUBO)
---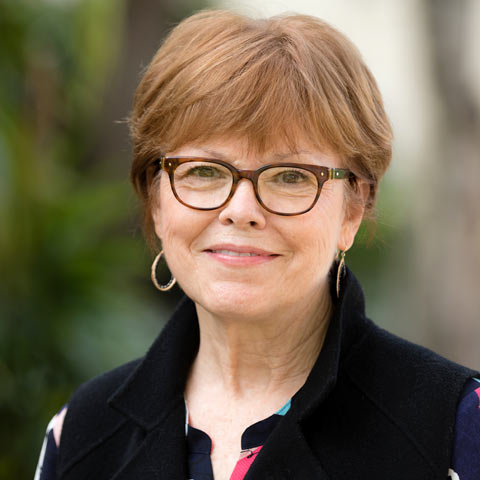 Dr. Susan Whealler Johnston is president and CEO of the National Association of College and University Business Officers (NACUBO), a position she has held since August 1, 2018. Prior to joining NACUBO, she was at the Association of Governing Boards of Universities and Colleges (AGB), and for 12 years she served as its executive vice president and chief operating officer. Prior to joining AGB, she was professor of English and dean of academic development at Rockford University. She also served as associate dean at Regent's College, Rockford's London campus.
Susan serves on the boards of Rollins College and Radford University. She is the chair of the board of Rollins College. She is past chair of the board of the Southern Education Foundation and a former member of the advisory committee of the National Survey of Student Engagement (NSSE). She is also a member of the board of the John N Gardner Institute for Excellence in Undergraduate Education.
Susan writes and speaks on a range of topics including higher education, governance, and leadership. She earned her Ph.D. and M.A. from Purdue University and her B.A. summa cum laude from Rollins College. She has an honorary doctorate from Rockford University.
---
Dr. Chris Markwood (President, Columbus State University)
---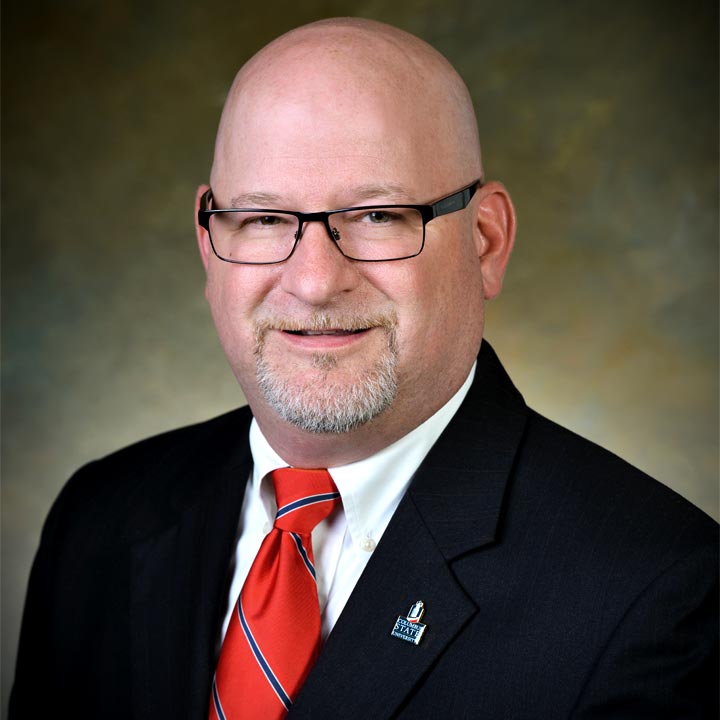 Columbus State University welcomed Dr. Christopher L. Markwood to his current role as the institution's fifth president on June 1, 2015. Since then, he and his family have been active participants in the university and the greater Columbus communities. That involvement has helped spur one of his first priorities that has guided his presidency ever since: instituting an even greater sense of "communiversity" between CSU and its host community.
During his tenure, Columbus State has established itself as a leader in providing transformational learning experiences and producing graduates who are creative problem-solvers and high-impact leaders. This philosophy is a tenet of both his vision of CSU being one of the South's most creative and impactful regional universities and its current five-year strategic plan.
Through his leadership, CSU has broadened its creativity, innovation, and efficiency in its academic, operational, and outreach efforts. This includes an intentional focus on servant leadership and engagement at all levels and within all university functions. This has resulted in new workforce development-focused degree programs in the areas of cybersecurity, robotics engineering, and film production (among others), record enrollment, and increased standings in many national educational ranking programs. During his tenure, the CSU Foundation exceeded the goal for its $100 million First Choice Comprehensive Campaign to support student scholarship, faculty professorships, programming, and capital projects by 20 percent.
His quarter-century in higher education has included a variety of academic responsibilities. Notably, these include appointments as the inaugural dean of the University of Central Oklahoma's College of Arts, Media & Design; interim chancellor at the University of Wisconsin-Superior; and provost and vice president for academic affairs at Texas A&M University-Corpus Christi.
A political scientist by academic training, Dr. Markwood holds three degrees in the field: a bachelor's from Southwest Baptist University, and master's and doctoral degrees from the University of Missouri-Columbia. He authored and edited "Oklahoma Government and Politics – an Introduction," and has written numerous articles and made presentations nationally on political science and continuous improvement in higher education.
Georgia Trend Magazine has five times named Dr. Markwood as one of its 100 most influential Georgians. He currently serves as an executive committee member of the Peach Belt Conference, and previously served on the Georgia Council on Economic Education's Board of Trustees and the University System of Georgia's Comprehensive Administrative Review Steering Committee.
Closer to home, Dr. Markwood and his wife Bridget are longtime Rotarians and current members of the Columbus Rotary Club. They are the parents of a junior high-aged daughter, Reagan.
---
Dr. Ronald L. Rhames (President, Midlands Technical College)
---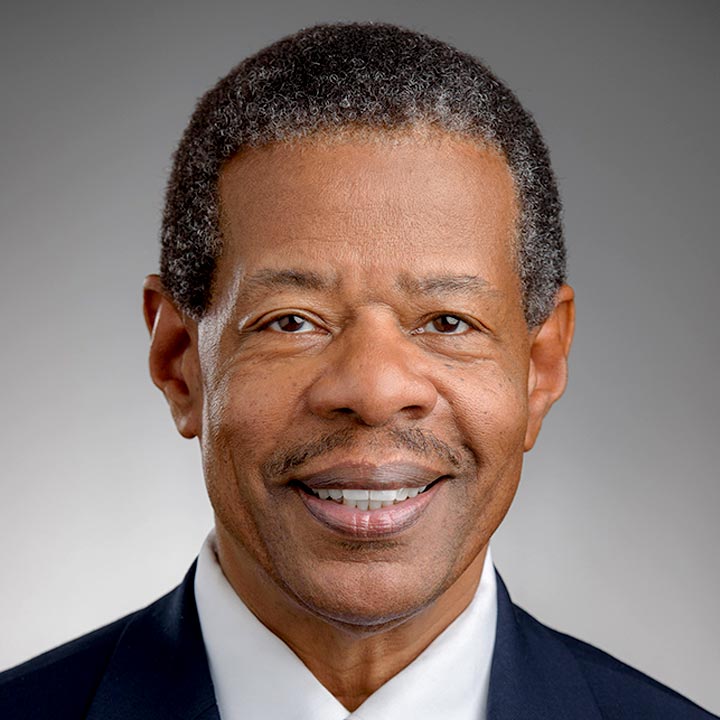 Dr. Ronald L. Rhames became the sixth President of Midlands Technical College (MTC) located in Columbia, South Carolina, on March 1, 2015. As president, he is MTC's Chief Executive Officer and is accountable to the MTC Commission, the college's board of trustees. Dr. Rhames began his career with the college in 1990, previously serving as MTC's Senior Vice President and Chief Operating Officer. He received an associate's degree in Management from Midlands Technical College, a bachelor's degree in Business and Economics from Benedict College, a master's degree in Administration from Central Michigan University, and a Doctorate of Business Administration from Nova Southeastern University.
Dr. Rhames served as board chair, National Association of College and University Business Officers; president, Southern Association of College and University Business Officers; president, Community College Business Officers of the United States and Canada; and president and state representative, Government Finance Officers Association of South Carolina. He is a published author in several academic journals and professional publications.
Dr. Rhames was inducted into the Richland County School District One Hall of Fame in Columbia, South Carolina, in January 2017. He was named one of the Fifty Most Influential People in the Midlands of South Carolina, as determined by the Columbia Business Monthly magazine in 2016, 2017, 2018 and 2019, and was inducted into the Fifty Most Influential People in the Midlands of South Carolina Hall of Fame in 2020. Dr. Rhames was selected as the 1998 International Outstanding Chief Business Officer for Community Colleges by the Community College Business Officers of the United States and Canada.
He is a member of the Columbia Rotary Club, and serves on the boards of directors of Midlands Middle College High School, Midlands Education and Business Alliance, EngenuitySC, Central CarolinaSC Alliance, Columbia Chamber of Commerce, Goodwill Upstate/Midlands South Carolina, Midlands Technical College Foundation, ex officio, and the Commission on College Readiness for the American Association of Community Colleges.
Since Dr. Rhames became president, MTC implemented major innovations including a comprehensive strategic planning process that focuses on institutional-wide engagement and execution, restructured the college's academic and continuing education programs into guided pathways for students, service excellence training for all employees, multiple measures for student placement, centralized academic and career advising, and the location of a major industrial tenant on the college's Enterprise Campus.
Dr. Rhames enjoys traveling and spending time with family and friends.